Born: 1141
Wisaal: 1230 CE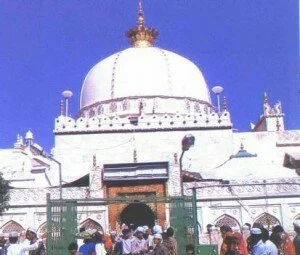 Desciption:
Sultan-ul-Hind, Hazrat Shaikh Khwaja Syed Muhammad Muinuddin Chishti R.A was born in 1141 and died in 1230 CE. Also known as Gharib Nawaz, or 'Benefactor of the Poor', he is the most famous Sufi saint of the Chisht? Order of the Indian Subcontinent. He introduced and established the order in South Asia.
Early Life:
He was a Sayed, a descendant of Muhammad PBUH through Ja'far as-Sadiq. He grew up in Persia. His parents died when he was only fifteen years old. He inherited a windmill and an orchard from his father. During his childhood, young Mu'?nudd?n R.A was different from others and kept himself busy in prayers and meditation.
Legend has it that once when he was watering his plants, a revered Sufi, Shaikh Ibrahim Qundizi (or Kunduzi) — the name deriving from his birth place, Kunduz in Afghanistan -came to his orchard. Young Muinuddin approached him and offered him some fruits. In return, Sheikh Ibrahim Qundizi R.A gave him a piece of bread and asked him to eat it. The Khwaja got enlightened and found himself in a strange world after eating the bread. After this he disposed of his property and other belongings and distributed the money to the poor. He renounced the world and left for Bukhara in search of knowledge and higher education.
He, in other words, interpreted religion in terms of human service and exhorted his disciples "to develop river-like generosity, sun-like affection and earth-like hospitality." The highest form of devotion, according to him, was "to redress the misery of those in distress – to fulfill the needs of the helpless and to feed the hungry."
Dargah Sharif:
The dargah (shrine) of Chisti R.A, known as Dargah Sharif or Ajmer Sharif is an international wakf (endowment), managed under the 'Dargah Khwaja Saheb Act, 1955′ of Government of India. The Dargah Committee, appointed by the Government, manages donations, takes care of the maintenance of the shrine, and runs charitable institutions like dispensaries, and guest houses for the devotees.