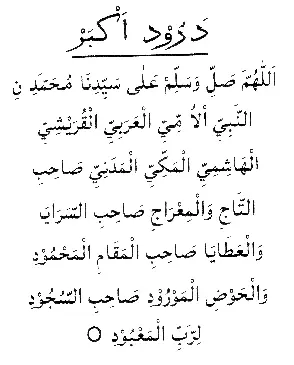 ALLAHUMMA SALLI WA SALLIM ALA SAYYIDINA MUHAMMADININ NABI YIL UMMIYIL ARABIYIL QURASHIYIL HAASHIMIYIL MAKKIYIL MADANIYI SAAHIBAT TAAJI WAL MI'RAAJI SAHIBIS SARAAYA WAL ATAAYA SAAHIBIL MAKAAMIL MAHMUDI WALHAWDIL MAWRUDI SAAHIBAS SUJUDI LIR RABBIL MA'BUD.

"O Allah! May Thy grace and peace rest upon Muhammad, our Master, the Prophet of Arabia of Quraish Tribe, of Hashmite Family of Mecca and of Madinah, who is the wearer of the Holy Cap, the one who ascended the Heavens and fought holy wars and achieved boons and bounties, the one who has place of praise and who is in-charge of Kausar Fountain, and one ever-bowed in supplication of Allah (and Allah alone)".
Hazrat Sheikh Mohi'uddin Ibn-e-Arabi (alaihir rahmah) popularly known as "Sheikh-e-Akbar" has disclosed a number of benefits of this Durood. It is the most sacred, accepted and appreciated of Durood Shareefs.